I talk to a lot of small & medium business owners over the phone.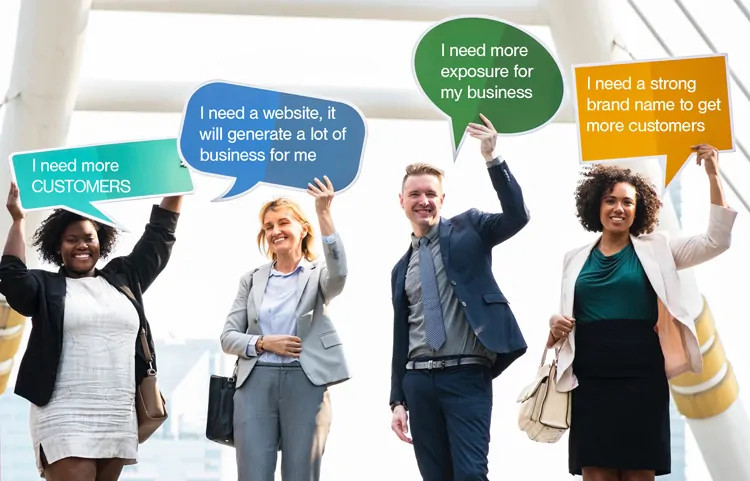 Many have the same 3 misconceptions
"I need more exposure for my business"
"I need a strong brand name to get more customers"
"I need a website, it will generate a lot of business for me"
This may be right in the old marketing playbook, but it definitely doesn't work well for small businesses on a shoestring marketing budget in the digital world.
SMEs need to focus on 1 thing: Lead generation
I believe all your money spent on marketing should generate more leads for your business, not JUST exposure, brand name, or just another website.
In this case study, I will reveal the strategy I apply to help a sports lessons team generate leads & convert them into paying customers!
Note: You might NOT achieve the same results by going through the exact steps simply because I understand about the buyer persona a lot more and the data collected over the months.
How I plan my marketing campaign to get paying customers
Many people will jump straight to the question of how I choose the Facebook settings, do we exclude certain people or interests in our marketing campaign, etc?
None of this matters until you understand about your buyers and the offer to make them take action immediately.
This exact strategy that I use helped to generate more than 175 leads in a month and converted 114 students (some leads has multiple students) into paying customers.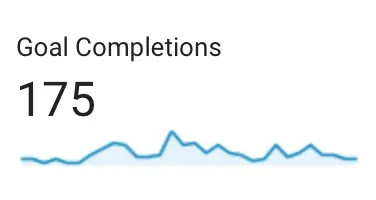 But before I reveal the steps, I want you to understand 3 very important concepts.
Concept 1:

The buying process is a journey, it is not a Yes/ No question

Many marketing campaigns are planned out in such a way that buyers make a yes or no decision to buy the product or service.

The only offer or the main message is to give a discount. This old marketing playbook tactic doesn't work that well in this well informed internet age.

A yes/ no buying journey simply ignores how customers make their decision, starting from their not being aware that they have problem, through them researching the solution, and finally choosing a seller to buy from.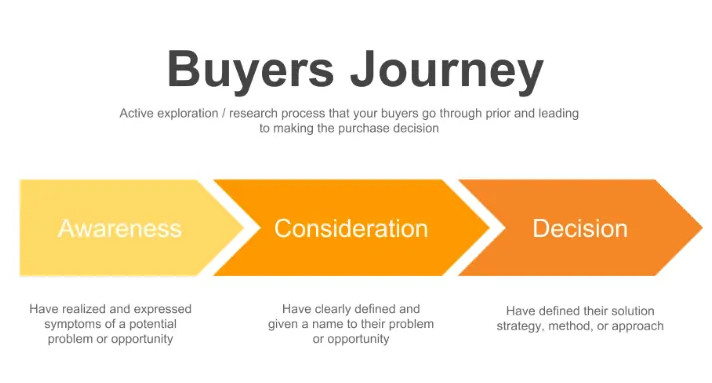 So if you're offering discounts at the very beginning of the journey, your potential customer may not even understand your product or service.
Discounts should only be given to people who are at the decision stage where they are comparing multiple providers, and using testimonials to convince them to sign up.
Sharing a solution to a problem is much more valuable for people at consideration stage – compared to a discount – because they aren't sure if they want to solve that problem or not.
Concept 2:

You must track ALL data & metrics, tweaking your strategy along the way

The majority of businesses are just using 'guess' marketing. They just use their gut feelings to manage their marketing campaigns.

This involves a lot of emotion, and biased decisions. When something doesn't work they way they want, nobody knows what is happening and how to fix it.

So we want to start tracking data from day 1.

That gives us the advantage of knowing which ads are working, and how much it costs to generate each lead, and then how much it costs to acquire a paying customer.
Main tools I use to track the entire sales process
Google Analytics
It is a free tool provided by Google, it is not the best one available on the market, but it can do the job.
Facebook Pixel
This is just a simple piece of code that feeds info back to Facebook. When you're running a conversion campaign, you need to let Facebook know what is working, and what is not as well.

When you read the results display in your Facebook campaign, you can tell which one is working, and which is not.
Customer Relationship Management (CRM) Software
After acquiring the lead, it is important to continue to track how the leads are doing over time.
This is a system that helps to delegate sales job to a sales team, so it's not just individuals doing all the hard work.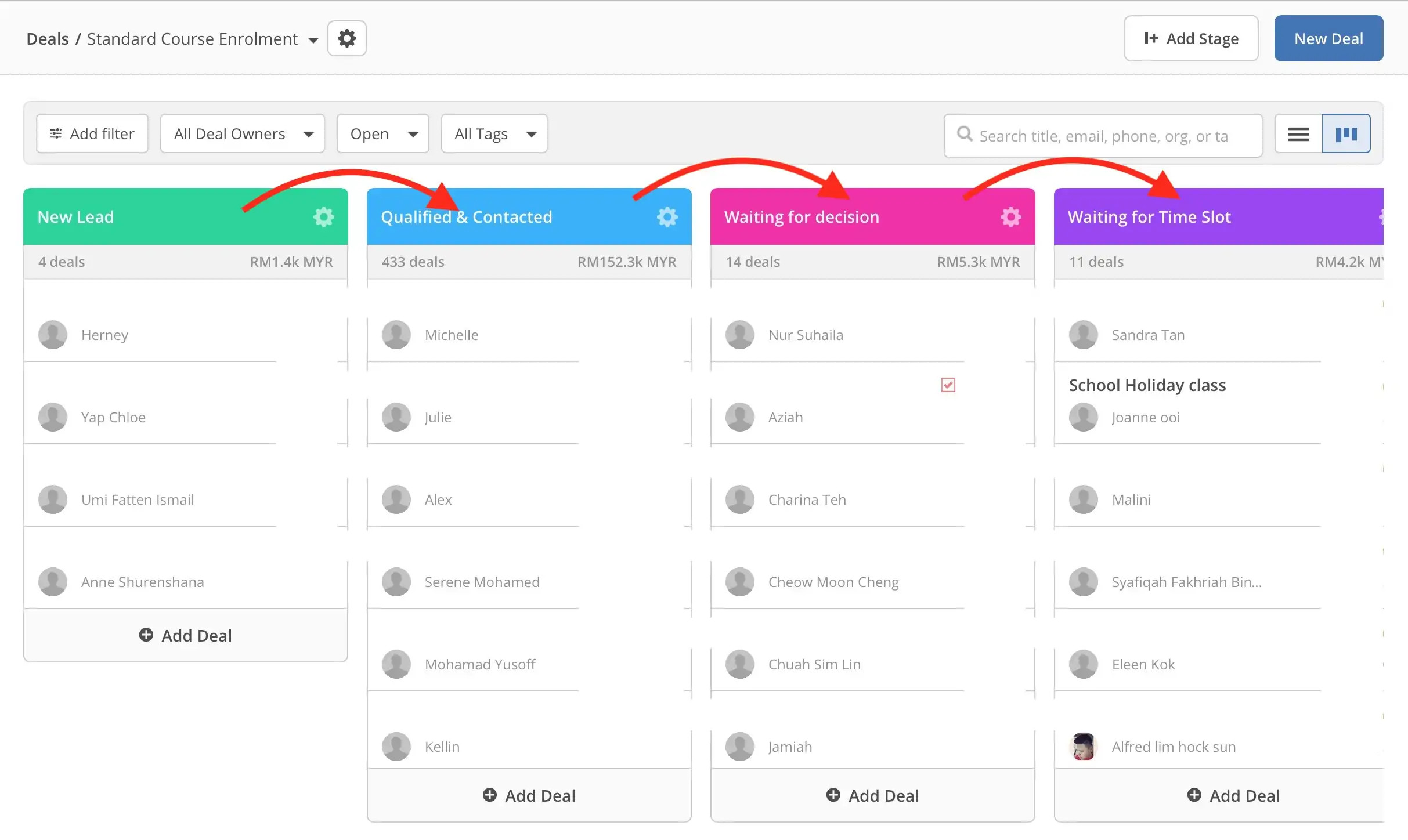 (Some sensitive information is masked in white due to privacy.)
The sales process I designed in this CRM has multiple stages to go through before someone becomes a paying customer. Each subsequent stage is more important that the previous one.
By using this method, we are able to achieve a few things:
Able to track which part of the sales process is going wrong, and fix it before it affects our sales.
Giving the sales team predictive metrics about sales to close in the current week, and current month.
Never lose track of a lead. The entire team can help to close a sale instead of just relying on 1 salesperson.
Concept 3:

Using human psychology to make customers sign up & pay NOW

How the human brain works is funny, we are masters of procrastination. If we know that something will be there when we return, we will procrastinate, and….maybe forget about it.

A common hack by marketers is to put a time limit and a quantity limit for people who can sign up.

If you have customers that show genuine interested in wanting to buy, but it takes forever for them to come back to you, this is the reason.
Scarcity – the motivation & driving force
Most of the marketing campaigns you see that most business are using give discounts for a certain period of time.
After that, you will lose the chance to buy at this low price. But this causes a bit of a problem! You're shaving your margin, and you make your own brand value drop as well.
People will start to relate your brand with low price.
Solution – Making a major announcement about a price increase
When a product or service increases the price, it has the same effect as giving out discounts. But businesses usually just keep quiet and don't let anyone know.
Don't you think people who have interacted with your business before should know if you're increasing the price? They should have a chance to decide if they want to grab the opportunity or leave it.
People feel that they are losing the chance to grab something at good bargain, and that entices them to act right now.
But the downside is that you really have to stop offering it at old pricing, and you can only use this tactic a limited number of times.
Step 1:

Get your message & offer right

Many businesses start to buy traffic on Facebook, Google and other platforms before they know what kind of message they want to convey.

Get this right, those online ads are just a platform for you to amplify your message out to your target audience.

If you get the message and offer wrong, you won't get customers, or zero leads!

The message and offer we are talking about here isn't the pricing discount or how good you are. We are talking about dreams and desires people want to transform into after signing up for your service.
Prepare your buyers persona & a message that resonate with them
If you're selling a course, people signing up isn't because your course or training is so good. They just believe that your course can lead them to achieve their ideal life.
Say for example, people go to the gym for a healthier body, they want look good in front of people. It just so happens that jogging and lifting weights is part of the process.
People try to learn swimming not because they will drown, many sign up because they want to go to a beach or island holiday. So the marketing message should be selling the dream holiday they want, learning about water safety is part of the process to prepare them.
Step 2: Setting up for the ads
Most people run their marketing campaign using just 1 ad, and not doing any form of tracking. If someone sees the advertisement and does not become a customer or send in an inquiry, that's it!
If you're running the ads in this way, you're leaving a lot of money on the table.
So we want to set up a few things allowing us to do tracking for our ads, and this is a way to tell Facebook if they are doing a good job and moving towards the right direction or not.
Create a Facebook pixel
Go to the pixel tab in your Facebook ads account. You must first click on the burger menu icon, and then find "Pixel".

Click 'create pixel', and follow the pop up box to complete your pixel setup. If you have already set up the pixel on the website, you can skip this step.
Once you create the pixel, you need to paste the pixel in every page on your website. You may need a developer to help you to insert it.
Create a thank you page
Depending on which CMS or how you create a website, a thank you page is a page visitors will be taken to after they fill in a form.
This is just a simple page that does the following 3 things:
Visually confirm that the business has received their submission
Set the right expectation about when a salesperson will get back to them
Allow tracking software to identify who has become a lead by tracking people who have visited that specific page. There are many ways to do this, but so far this is the easiest way to track.
Some of the examples of thank you pages you can refer here: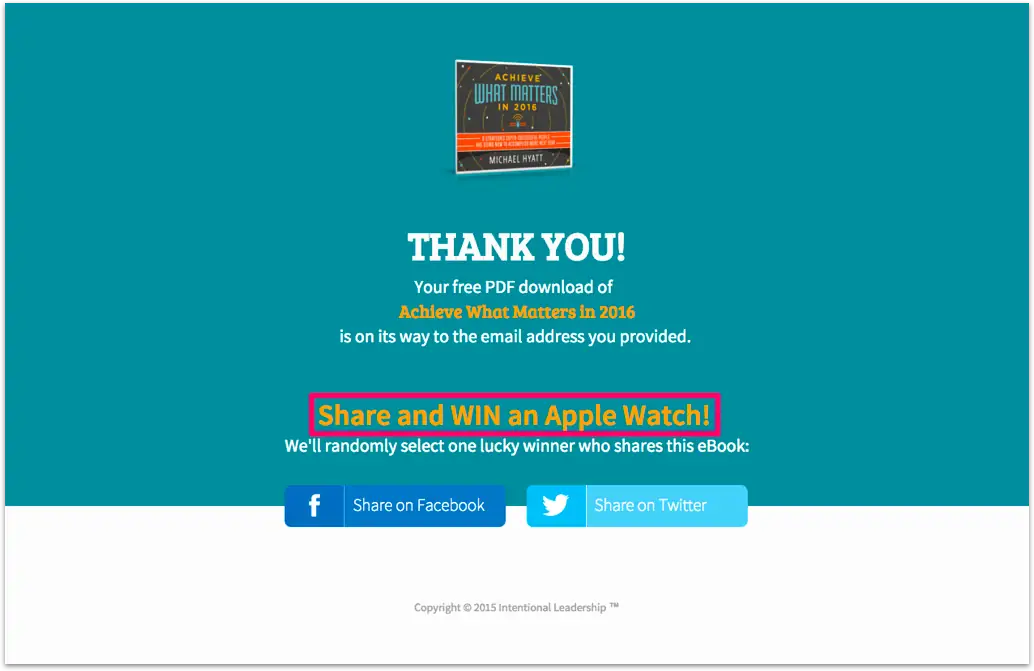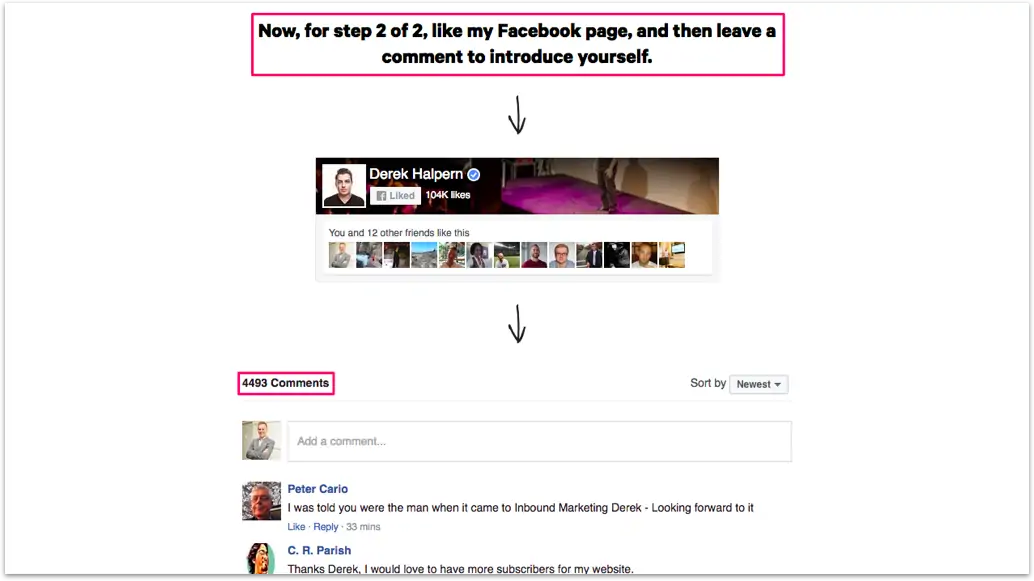 Create custom conversion
Once you create custom conversion, you're informing Facebook who has converted into a lead or purchased something on your website.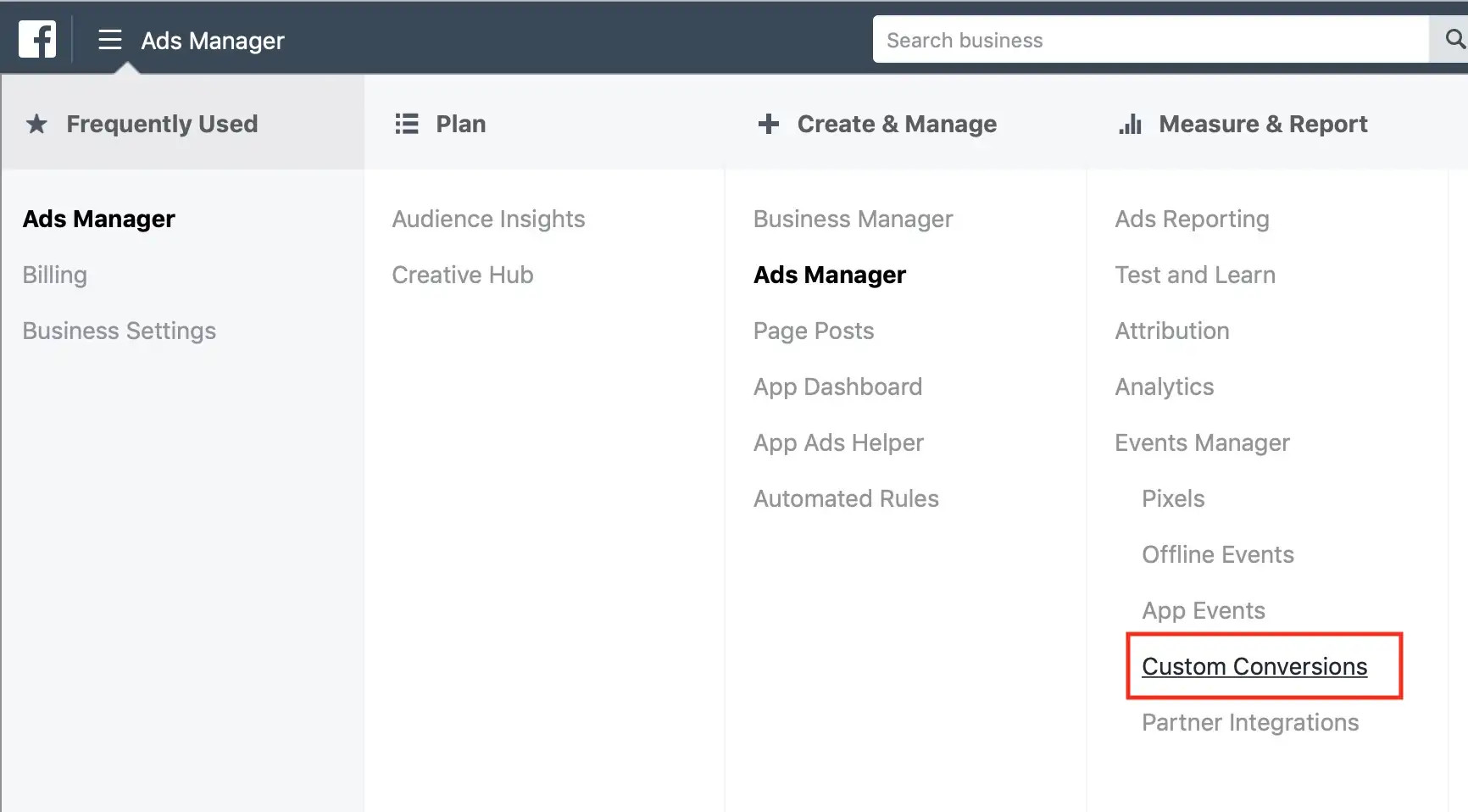 Go to 'menu' and select 'custom conversions'. Then select 'create a custom conversion'.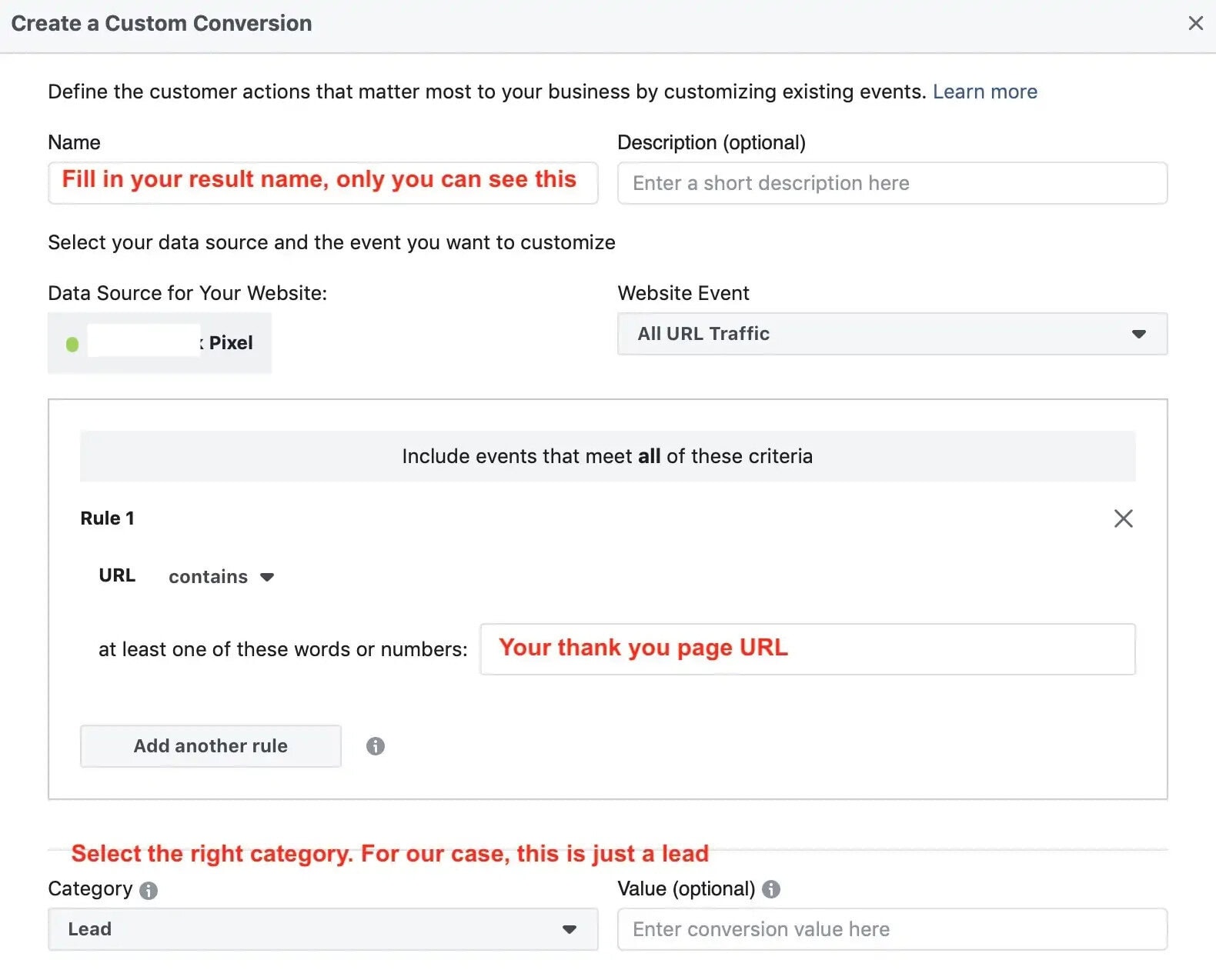 Fill in the necessary info that I have highlighted here, and you're all set. This will be used when you create a new ad set.
Create a custom audience for converted leads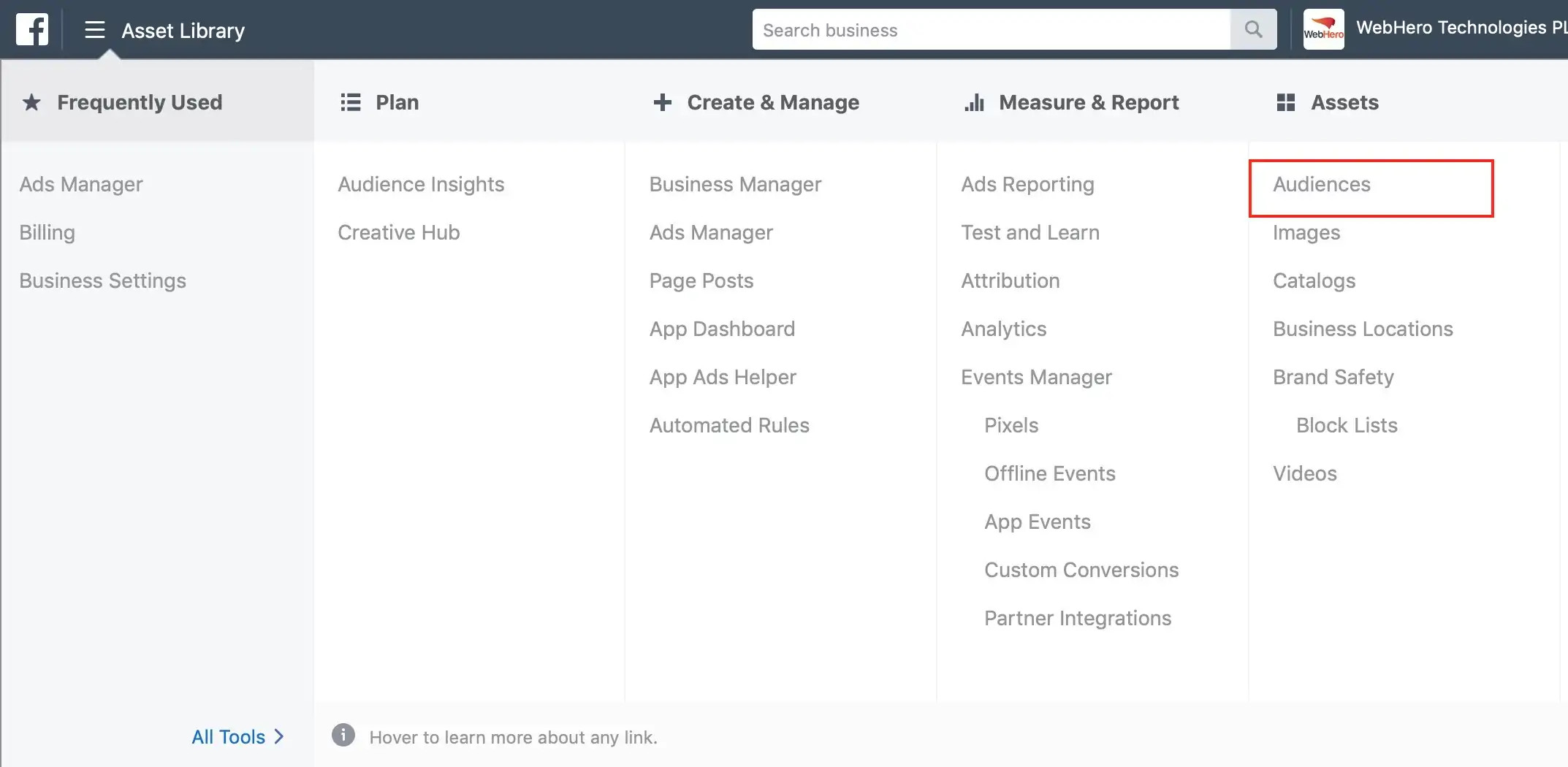 Simply go to your audience tools to create a custom audience for web traffic, or you can upload customers' data to create this audience.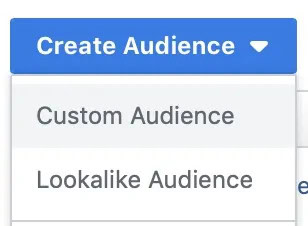 Select 'custom audience' at 'create audience' button.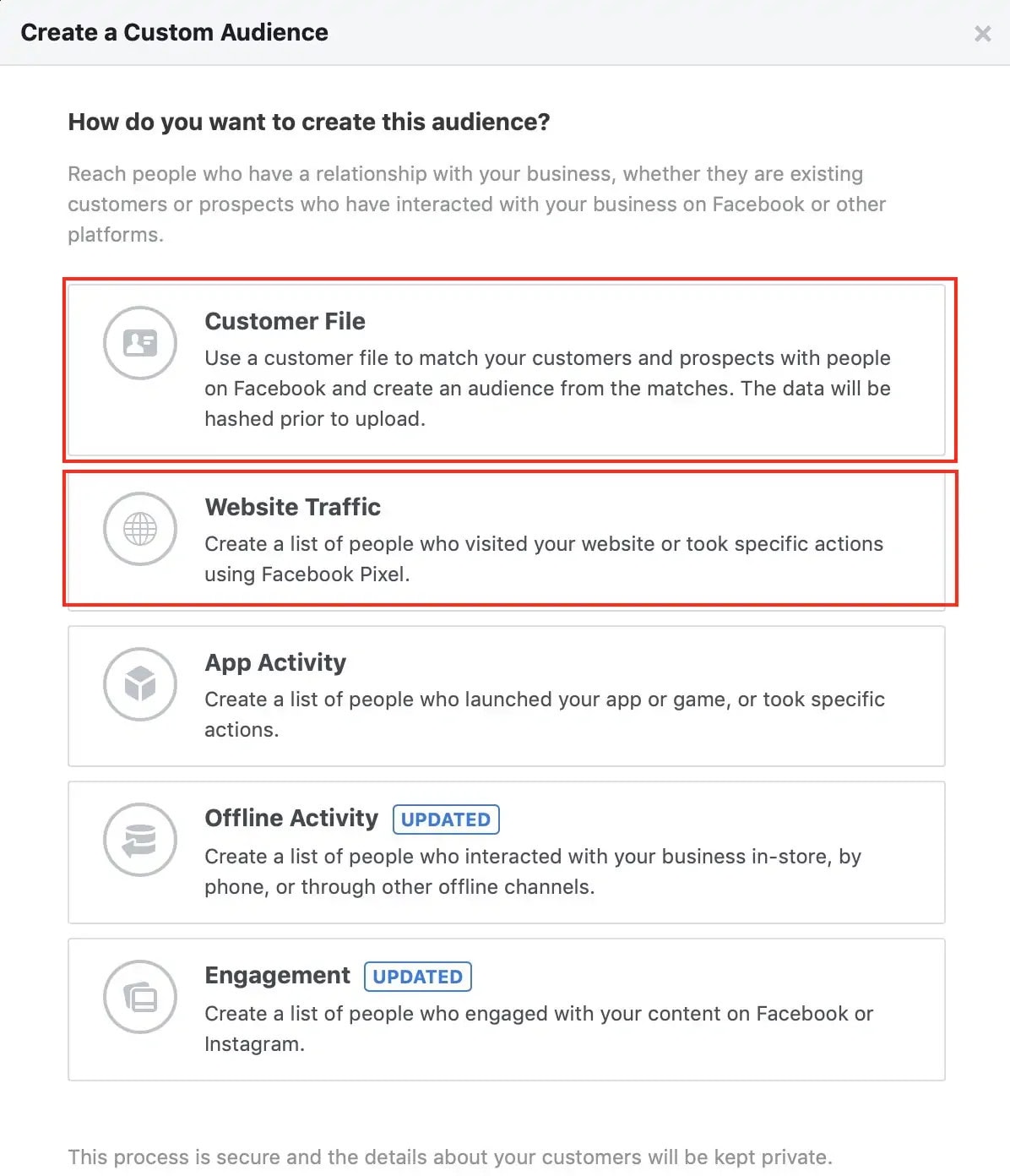 Usually there are 2 types of custom audience I will use. Most are website traffic if you have a proper website. This helps to get a better match rate compared to uploading customer files.
The only downside is you need to set this up at the beginning of the campaign to start collecting data first.
In this tutorial, I will only show how to create custom audience from website traffic.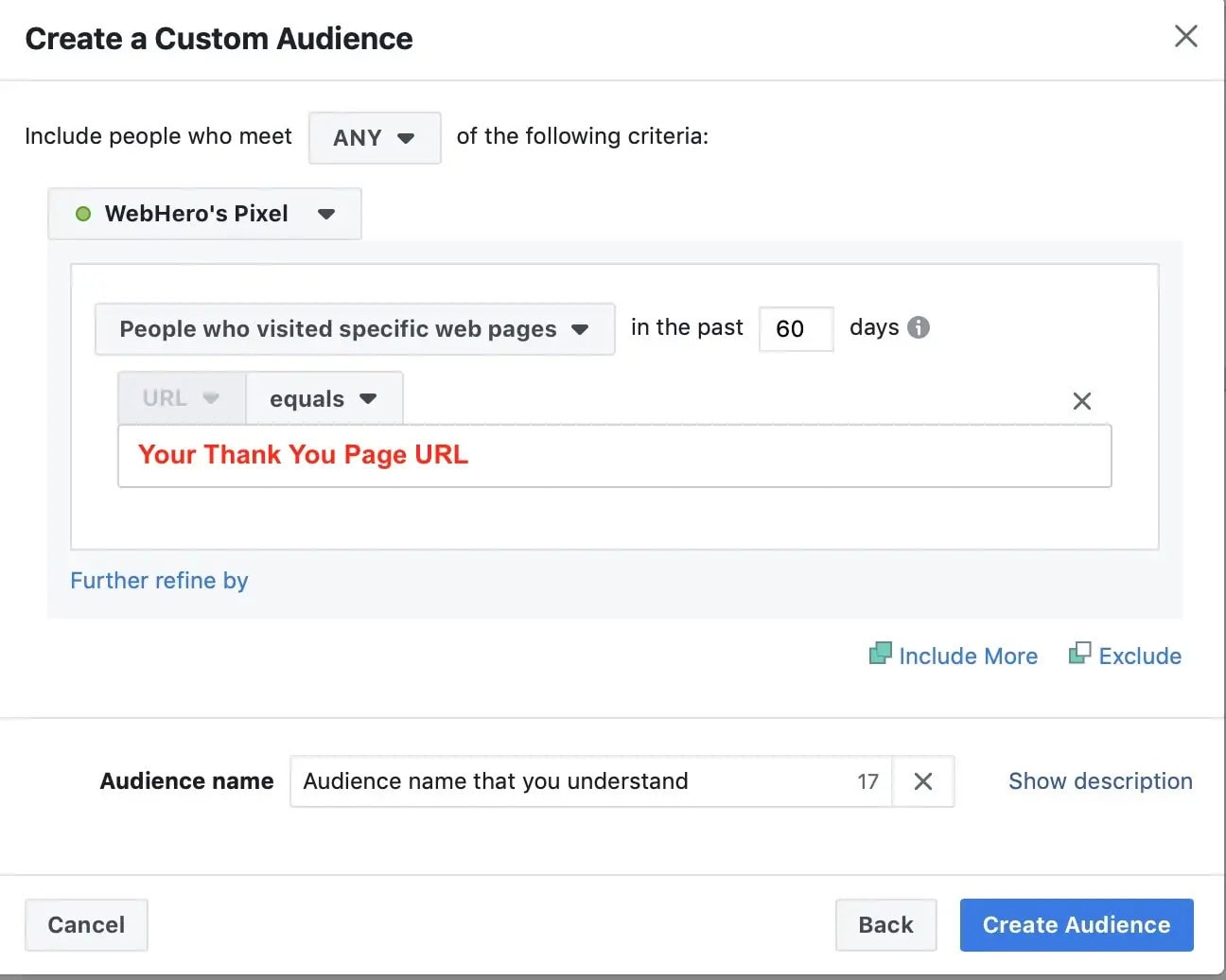 Basically the setup is already done here, and we will be using the data collected here in the next step.
As mentioned in this tutorial, I want Facebook to help me to find more people who drop their inquiry before, not commenting PM, because this is a very low engagement & low intention type of audience.
Step 3:

Launch conversion campaign & drive traffic

Using what we have created in step 1, now we can have a lot more data to hand when we create a new campaign.

There is only 1 trick to make your future digital marketing campaign a lot better.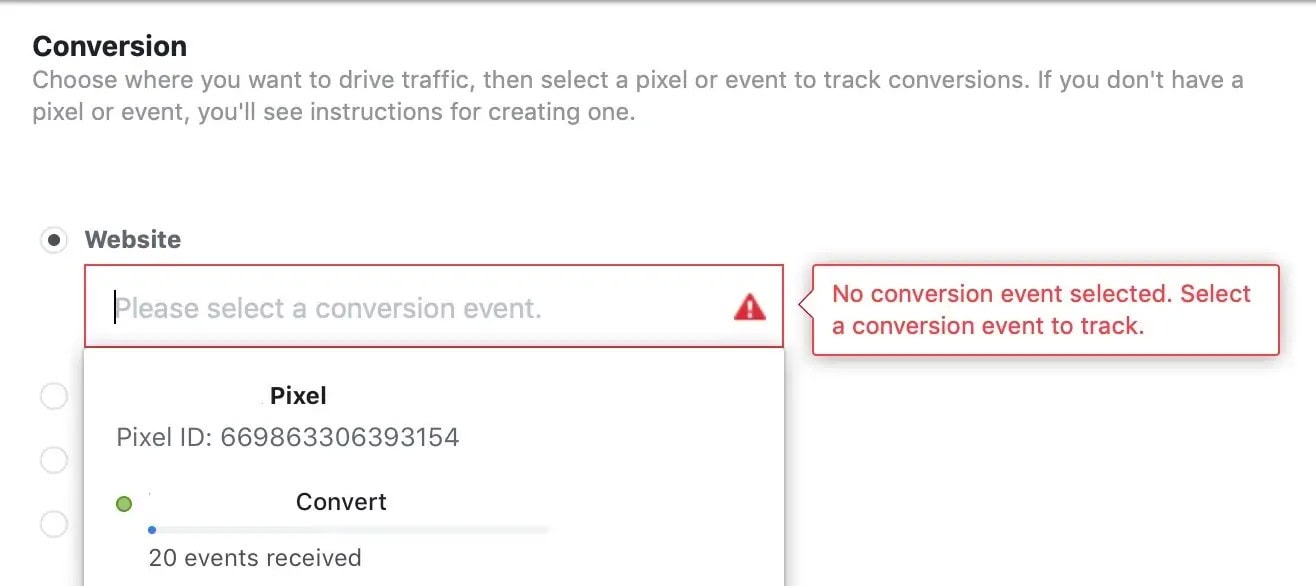 Select the right custom conversion to track the results. If this is the first time you are using custom conversion, select the one you just created.
Monitor your results constantly
Right after you launch your campaign, it is important to monitor it and kill off those that aren't working for you.
For the first 36 – 48 hours, the results may not be good as Facebook is still trying to find the right audience who will convert. So I don't make any changes during this time, and I will not make decisions based on results generated within a short time frame.
Step 4:

Scaling up using multiple ad format

90% of the time when I run a Facebook campaign, I will only do it through conversion objective.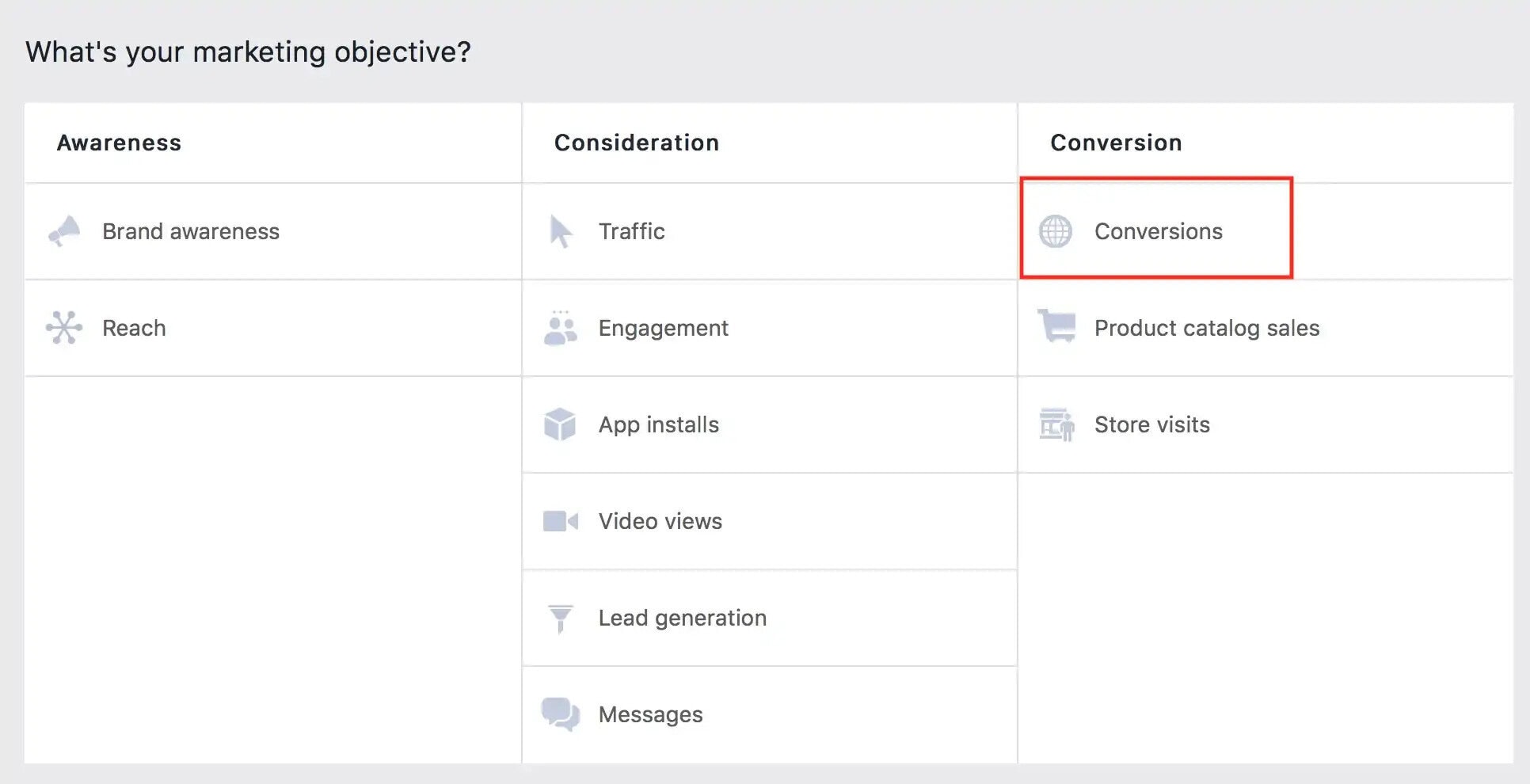 That is the ultimate goal for any business, and more leads or prospects will definitely help to boost your revenue.
But if you want to grow in a very short time, you will find that conversion objective alone isn't fast enough.
The other objectives I usually use are:
Traffic – To reach more unique visitors quickly
Engagement – build up comments & social proof
Message – Allow people to ask quick questions and follow up later
Using Facebook big data to find more similar customers
Once you accumulate more than 1000 leads (better if you have customer data), you can upload their data to Facebook to find more similar audience.
You see, Facebook actually knows a lot about you, like where you go, what you like, who behaves just like you, what you buy online, etc.
This allows advertisers to target people who are more like to become customers. But until now, only power users are using this. Most people only do Facebook ads through boost posts.
Using the data we collected in the custom audience we set in the previous step, we can then create a lookalike audience to find more people just like them.
You need to go back to the 'audience' tab, then click on the button to create lookalike audience.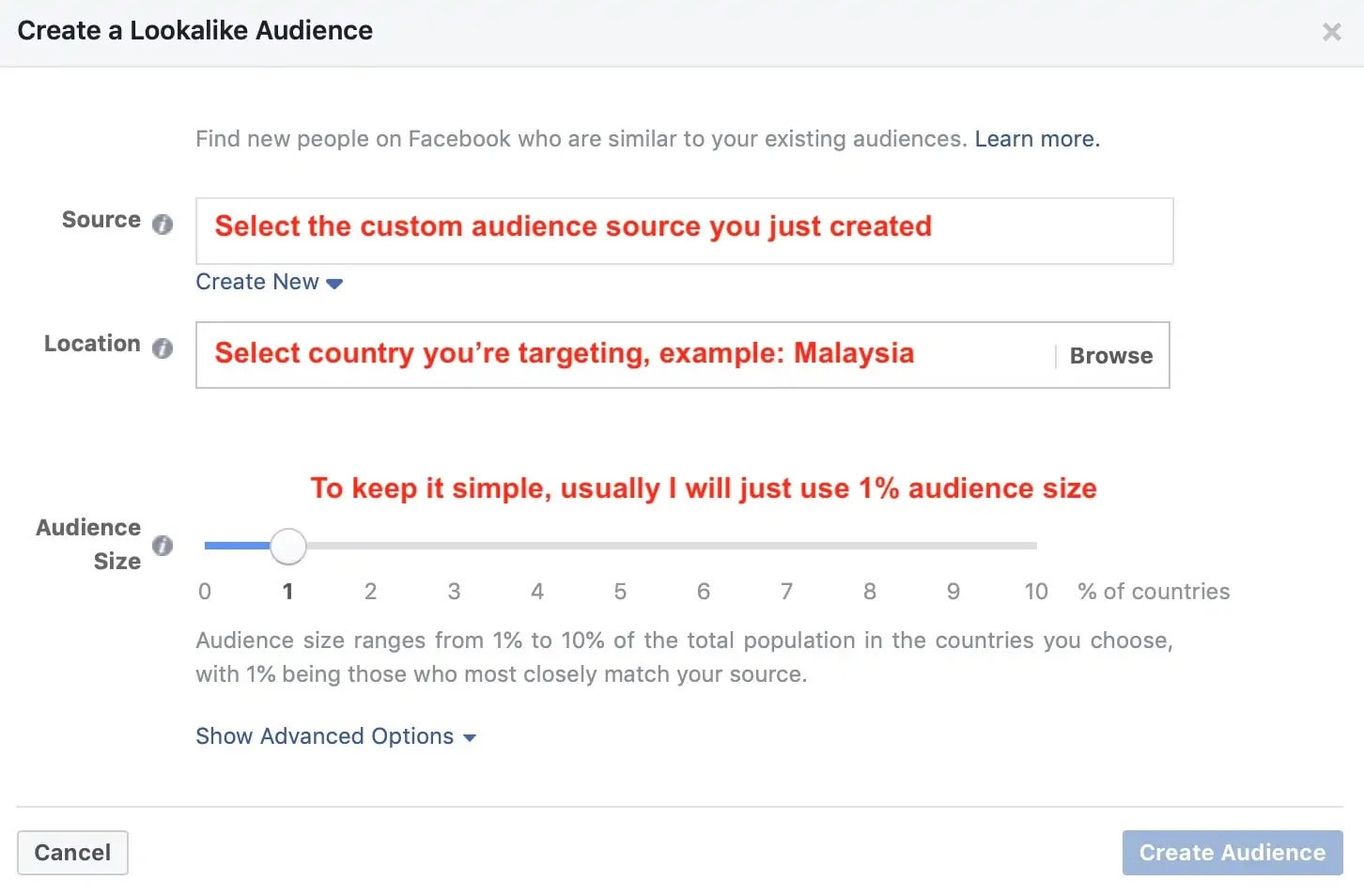 Once I create the customer audience at the beginning of the campaign, I will then use this lookalike audience in other ads format. I tend to use 1% of the audience size to keep the entire audience targeting highly relevant to our offer.
Remember, online marketing isn't just a race to reach more audience, it is a race to reach laser focus and the right audience.
Then when you create ads for other objectives, you can just put in your audience in a new adset.
Step 5:

Create ads that follow people around to convince them to join

A large portion of visitors to your website will not convert into a lead. Let's say, 1 out of 10 people who visit your website will leave their details for you to call back.

But what happens to the remaining 9? Nothing! So businesses need to offer a 2nd chance to connect with these people and allow them to connect through alternative channels.

Also, the majority of sales don't happen because the trust level isn't there yet. Retargeting just happens to address this issue very well.